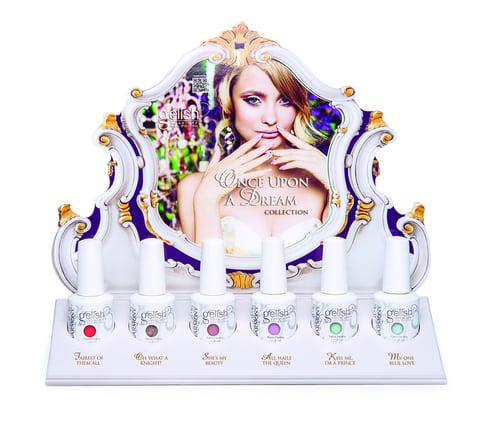 A pedicure that really will last weeks and dries instantly so you won't smudge your beautiful new toes!
This power polishes provide weeks of lasting colour.  Making healthier, stronger natural nails that won't smudge and dry instantly leaving a stunning mirror finish shine. Available in an array of colours and french polish.
Treatment
Price

Gelish Toes

- 45mins
If you're short of time and need a quick fix for those unsightly toes this is the pedicure for you. Includes toe nail file and shape, cuticle tidy and a stunning Gelish polish.

£28.00

Gelish Rockstar Toes

- 45mins
Super sparkly toe nails with all the benefits of Gelish!
Includes toe nail shape and tidy, cuticle work and a Gelish polish with a glitter of your choice.

£33.00

Footlogix Pedicure - No Polish

- 1hr
This luxury foot treatment includes toe nail cutting and shaping, cuticle work, foot soak, foot exfoliation, callus treatment and the addition of a much more thorough and deeper hard skin removal for those with problem areas. The ultimate medi-pedi treatment is followed by application of prescriptive creams and mousses for specific foot conditions with a relaxing 5 minute foot massage.

£30.00

Footlogix Pedicure with Gelish

- 1hr 15mins
The James Bond of Pedicures! The same as the Footlogix pedicure with the added bonus of Gelish Polish on the toes.

£40.00
Please let us know if you would like to add these on to your treatment as some of them may require extra time.
Treatment
Price

French Polish/Glitter/Art

- 15mins
The white tip Manicure is perfect for Brides, if you wish to have a more natural classic finish or because you cant decide which colour will match your outfit.

Plase let us know if you would like a French Polish finish with your Gelish treatment as we will need to add on some extra time to your appointment.

£5.00
We can't stress enough how important it is to have your much loved Gelish removed safely when their time is up.  We recommend removal and reapplication every 2-3 weeks to keep your natural nails in tip top condition and your Gelish looking constantly perfect!
Treatment
Price

Gelish Removal with Reapplication

- 15mins
Hooked on your beautiful Gelish nails? Removal with reapplication is completly FREE!

FREE

Gelish Removal without Reapplication

- 30mins
Your Gelish will be buffed over to remove that gorgeous shine, a pad soaked in Gelish remover will then be placed over the top and wrapped in foil for 10-15minutes. We'll then finish with a nail buff, ensure your natural nails look neat and tidy with a natural healthy glow.

£10.00
Eye catching heat activated foils that cover the nail, last for weeks and require no drying time. Available in patterned, plain colours and metallic. Perfect for parties, holidays and special occasions.
O.P.I Treatments for the Feet
Please remember to bring a pair of flip flops to your O.P.I nail treatment, your polish will take a couple of hours to harden. But don't panic if they're in the back of the wardrobe or you forget, we supply complimentary treatment flip flops!