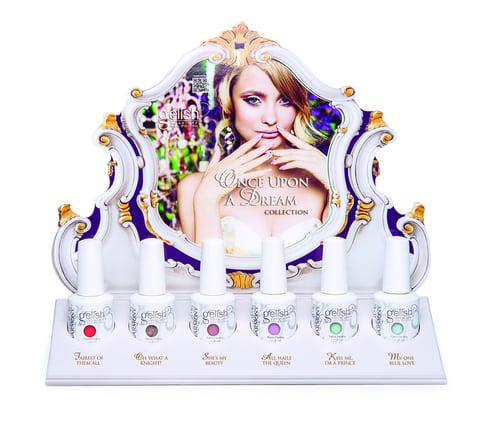 Gelish is just one of Emma's most popular treatments at Simply Beautiful - that's because she prides herself on attention to detail and only offers you and your hands and feet the best products and service.  She's sure you'll find the perfect hand or foot treatment from the treatment menu
This power polishes provide weeks of lasting colour.  Making healthier, stronger natural nails that won't smudge and dry instantly leaving a stunning mirror finish shine. Available in over 100 colours and French polish.
Aftercare
Although completely dry before you leave the salon, Gelish is still effectively setting for the first 24 -48 hours.  Please take extra care during this time.  This includes avoiding swimming pools, saunas, steam rooms, washing and bathing.
Wear gloves when gardening, cleaning or washing up.  Chemicals and excess water may cause lifting, chipping and fading/discolouration – smoking may also cause this.
Use Nourish Cuticle Oil at least twice a day to prevent your nails from splitting, breaking and peeling.  Other cuticle oils/ creams may cause your Gelish to chip or peel.
Do not pick/peel your Gelish! You will cause damage to your natural nail.
Tanning lotions, other beauty products and hair dye will discolour your Gelish so remember to wear gloves and wash your hands after.
Wash your hands thoroughly after applying creams (including sun protection) to the face and body.  The ingredients Deet and Lanolin may cause lifting.
Be careful when opening car doors and ring pulls on cans.
Always remember to book your next appointment before leaving the salon as you may not be able to get a last minute one.
Treat your nails like jewels, not tools!
Treatment
Price

Gelish Fingers

- 45mins
My most popular treatment in the salon! This treatment includes a file and shape, cuticle work and a perfect Gelish polish.

My price of £28 also includes removal of my own Gelish work with re-application of Gelish and accent fingers (1 finger per hand, usually the ring fingers) including glitter Rockstar, Swarovski Crystals, Nail Art and Structure Gel if required.

£28.00

Gelish Rockstar Manicure

- 1hr 15mins
Super sparkly nails with all the benefits of Gelish!
Includes nail shape and tidy, cuticle work and a Gelish polish with a glitter of your choice.

£33.00
Please let me know if you would like to add these on to your treatment as some of them may require extra time.
Treatment
Price

French Polish/Glitter/Art

- 15mins
The white tip Manicure is perfect for Brides, if you wish to have a more natural classic finish or because you cant decide which colour will match your outfit.

Plase let us know if you would like a French Polish finish with your Gelish treatment as we will need to add on some extra time to your appointment.

£5.00
I can't stress enough how important it is to have your much loved Gelish removed safely when their time is up.  I recommend removal and reapplication every 2-3 weeks to keep your natural nails in tip top condition and your Gelish looking constantly perfect!
Please be aware I will only remove my own work, not another Nail Techs.
Treatment
Price

Gelish Removal with Reapplication

- 15mins
Hooked on your beautiful Gelish nails? Removal with reapplication is completly FREE!

FREE

Gelish Removal without Reapplication

- 30mins
Your Gelish will be buffed over to remove that gorgeous shine, a pad soaked in Gelish remover will then be placed over the top and wrapped in foil for 10-15minutes. We'll then finish with a nail buff, ensure your natural nails look neat and tidy with a natural healthy glow.

£10.00
O.P.I Treatments for the Hands
Please note the OPI manicure treatments are no longer available.